Attorney Lead Generation. Mass Torts. Web Leads & Live Calls. 
Build your next-generation
practice with Pay Per Lead
Powered by the highest-trafficked network of high-quality legal information sites, our pay-per-lead program covers every major area of law consumers are searching for Auto Accident with Injury, Bankruptcy, Criminal Defense, DUI/DWI, Divorce, Personal Injury, SSDI, Estate Planning and many more.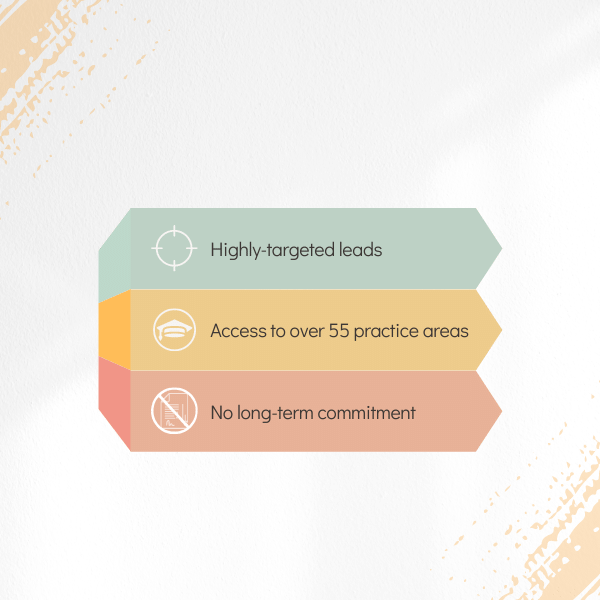 Benefits of our
Pay Per Lead Program
Get connected with prospective clients matching your practice focus and location.

Access to over 55 practice areas

Customize your program to fit your practice needs and focus.

You can start and stop the pay per lead program at any time.
Connect with prospective
clients today
We find the leads for you:
With the help of our professional staff of editors and attorneys, we post and maintain hundreds of helpful, consumer-focused articles covering most major practice areas. These pages are always monitored to ensure we place in top positions for search phrases related to all major practice areas. When consumers search these articles for legal help, we convert them to the leads we channel to our legal clients.
We get the details you want:
With our practice-specific forms, we are able to gather detailed information about each consumer's case or request and relay the information immediately to you.
We deliver leads immediately to your system of choice:
Lead response time matters, and lead quality is highest when potential clients are looking for you. We help you connect with clients by delivering their details right to your email or smartphone in real time – giving you an edge over the competition.